Every one LOVES the Cobras they are by far the American production sports car icon. They are revered and coveted by their owners and fans alike. They were built to take on the Corvettes and european manufactures like Ferrari. After my initial posting recreating an article from SCG November 1965 testing the new 427 versions of the street and competition cars it took a while to find this original magazine and thus the article to recreate but also expand upon.
**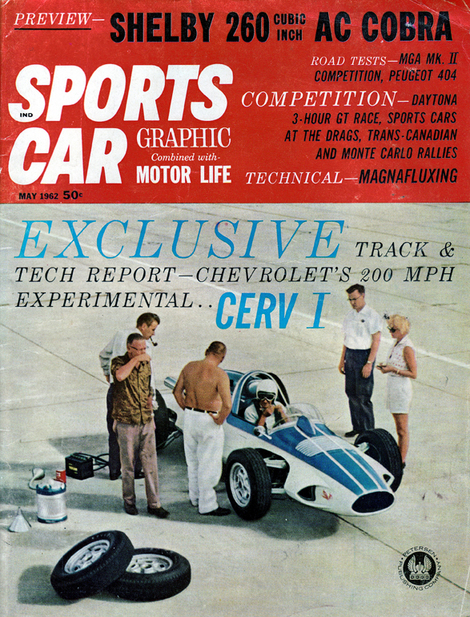 I believe this is the original press release.
The press release from Shelby in April 10, 1962
LOS ANGELES, Apr. 10 -- A new, 150-m.p.h. sports roadster -- the Shelby AC Cobra -- designed for fast touring and world-wide road racing competition was shown for the first time in Los Angeles today.
Designer of the Cobra is Carroll Shelby, former national sports car driving champion and winner of the famous Le Mans 24-hour race in 1959. The bright yellow Cobra prototype will be sent to New York this week to be exhibited at the International Automobile Show which starts April 21. Powered by Ford Motor Company's recently announced 260-cubic-inch V-8 engine, the Shelby AC Cobra is a unique and effective combination of a modern American production powerplant and a renowned English sports car body and chassis. The handformed, all-aluminum roadster body is made by the AC Car Company, one of England's oldest coach building firms. Shelby says the Cobra is intended as a dual purpose sports car, for fast touring as well as road course competition. Although only limited production is contemplated, additional units are now being built.
The chassis, running gear, body, upholstery, appointments and trim to the finish color coat of paint are completed by the AC Car Company in Thames Ditton, Surrey, England. The Ford engines will be installed when the cars reach Los Angeles, and Shelby will test drive each Cobra before delivery. Features of the 2,100-pound Cobra include 12-inch Girling disc brakes on all four wheels, independent four wheel suspension, four-speed Ford transmission, fully synchronized with close ratio gears, individual bucket seats with genuine leather upholstery, all weather top, wire wheels, optional radio and heater, full instrumentation including tachometer, adjustable steering wheel, a choice of gear ratios and a selection of optional equipment.
The car has a suggested list price of $5,995.
The basic powerplant, the Ford 260-cubic-inch V-8 offered as an optional engine in the 1962 Fairlane and Fairlane 500, has been modified slightly with solid valve lifters, larger valves and other components that alter the compression ratio for higher performance. With a 3.54 to 1 final drive ratio, the top speed of the car is rated at 150 m.p.h. Other engine modifications -- multiple carburetion, special camshaft and higher compression -- increase the output to 335 bhp. for competition in 'A' Production class.
'The Cobra is designed as a threat to the cars that now dominate the world's sports car races,' Shelby said. 'I believe this is the right type of sports car for the American driver who wants performance with no sacrifice in normal driving reliability. The Cobra is made to be driven on the street and enjoyed, but it also will be highly competitive in all types of events, including Le Mans and other demanding races.'
'I knew the reputation of the AC sports cars for their handling and clean design. When Ford Motor Company announced its new lightweight V-8s this year, I knew the powerplant I needed was available.'
The new V-8 engine achieves its light weight with a thin-wall casting technique which Ford pioneered in the auto industry. The engine weighs less than the two litre (121-cubic-inch) Bristol which was used in previous AC cars, but the Ford V-8 develops almost twice as much horsepower. It has a bore and stroke of 3.8 in. by 2.875 in. and a compression ratio of 10 to 1.
A single four-barrel carburetor tops the basic engine (for Class 'B' production sports car racing), but engine options up to 335 bhp. will be offered. Optional equipment includes racing camshaft, higher compression ratio, Weber carburetors and supercharger. The Ford four-speed transmission has close ratio gears, floor shift and a short, positive throw, reverse inhibitor.
Shelby designed the body with a streamlined nose and flared wheel cutouts. The aluminum body is hand crafted and finished with 12 coats of acrylic lacquer. Coachwork and trim are of the same high quality which characterised the AC Bristol and Aceca cars. A folding soft top and side curtains, with movable lucite panel, provide all-weather protection.
Although the chassis has been redesigned to accept the greater power output of the 260-cubic-inch Ford V-8, the car has the same large-tube frame and independent suspension that gave other AC cars a notable reputation for handling. The rear end features a husky Salisbury center section and heavy axle halves. Dual master brake cylinders and 12-inch Girling disc brakes on all four wheels provide ample stopping ability.
The Shelby AC Cobra will be distributed by Carroll Shelby Enterprises, 10820 South Norwalk Blvd., Santa Fe Springs, Calif.
DRIVER'S REPORT: CARROLL SHELBY'S 260 CUBIC INCH AC COBRA Class A and B Production, watch out!
by John Christy photos: Bob D'Olivo & Dean Moon
WHEN, IN THE EARLY FIFTIES, an English race car builder named John Tojiero bolted together a light-weight special around a hot Bristol engine, it is doubtful if he even dreamed of the far reaching chain of events he was to start.
From the first, the car was a success. So much so, in fact, that the AC Car Company, in search of something new to take the place of their obsolescent sports car, bought the production rights to the Tojiero's special. The results was the Ace Bristol, a car that literally owned the SCCA's two-liter Production class from 1955 to 1960, when it was summarily bounced to C-Production, an upgrading of two classes. Even then, in the hands of the likes of Pierre Mion in the East and Pete Haywood in the West, it still was a winner, Mion taking the SCCA class championship.
For about the same number of years Carroll Shelby, former Grade One driver, now an SCG Contributing Editor and operator of the Carroll Shelby Driving School, has been dreaming of producing and marketing a car for production racing, preferably in Class A or B, to go against and try to break the monopoly held in the West by Corvettes and in the East by Ferrari Berlinettas. At the beginning of the year, with announcement of the Ford's new 221 and 260 cubic inch lightweight V-8 engines, Carroll knew he had his power plant. The Ford Motor Company was only too happy to cooperate, providing a special series 260 with a different cam, solid lifters, larger ports and higher compression pistons - horsepower output: 260 bhp or one horse per inch of displacement.
Another happenstance gave Carroll the vehicle to carry this little boomer. The Bristol Motor division of the famous aircraft company of the same name, which had been supplying the two-liter engine to AC and others, announced that it was quitting production and selling of its car building operation. The AC company was left without a power plant. Ken Rudd stepped briefly into the picture with a hopped-up English Ford six cylinder engine and then, apparently, bowed back out. Into this void marched Shelby with an offer to take all the roadsters they could produce if they would modify the design to take the brute torque of the XHP-260 engine. Such swaps has been tried in the past, mostly with Corvette engines, and were usually less than successful due largely to rear ends designed for 130 lbs. ft. of torque being required to handle upwards of 300, and other problems related to doubling and tripling power loadings on something designed to take far less. The AC people were only too willing to oblige. The result was and is the Shelby Cobra, the first of which is seen on these pages. It is the unimproved test prototype but even in its raw form it fulfills Shelby's long standing dream admirably.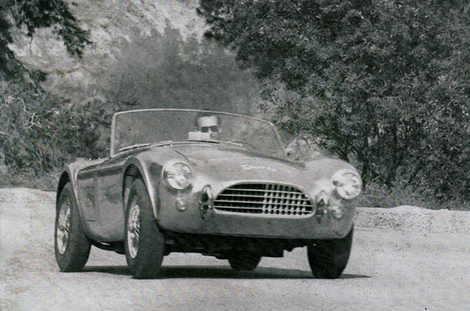 Lined up, coming out of a tight bend, the Cobra explodes out of the exit but with no snaking or squirrelly traits.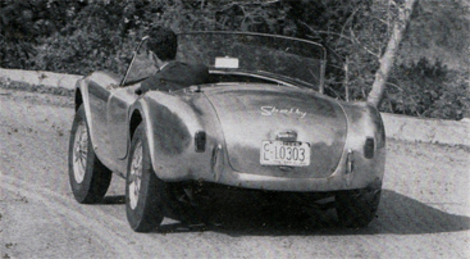 Steer characteristics is neutral if properly driven, but too much gas too soon produces induced understeer.

Lines of the Cobra are similar to Ace-Bristol but nose and tail are longer; 72-spoke, 15-inch wheels used.
Most of the changes in the car, aside from the much stiffer suspension and provisions for the V-8 engine with its four-speed Borg Warner gearbox, center around the rear end. This has been beefed up considerably, with heavier hubs and half-axles. The lower A-frames have not only heavier tubing but have been fish-plated as well as extra fore-and-aft stiffness. The long tail shaft of the transmission ends up only inches from the front of the fixed center section, with the result that the drive shaft is little more than a pair of universal joints coupled by 10-length of heavy-wall tubing. The center section itself is a big Salisbury unit similar to that used in the XKE Jaguar. On the prototype this section carries a pair of inboard mounted brakes, with the calipers in trailing position. However, since Shelby does not want to bother with complaints about heat and/or oil leakage on the discs, these will be moved outboard on the production versions.
We spent a day playing with the car and can safely say that it is one of the most impressive production sports cars we've ever driven. Its acceleration, even with the much maltreated and dynamometer-thrashed single four-throat engine, can only be described as explosive and at least equal to that of the better running hot Corvettes and Berlinettas we've driven. At one point we entered a clear Freeway in Second gear, giving about three-quarter throttle and by the time we had quartered across to the fast lane the tach was nudging 6000 rpm and we were madly grabbing for Third, looking out for the Law and pulling our right foot off the loud pedal all at the same time.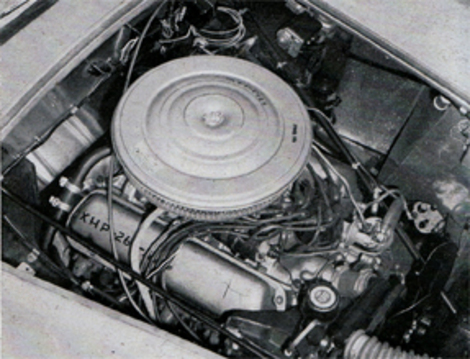 Engine used in prototype car was one of the two Standard units. It differs from the normal 260 Ford in that it has solid lifters, more compression, larger ports and valves.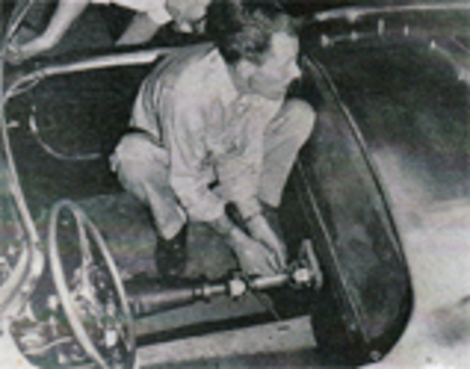 Long tail shaft on gearbox nearly hits rear end; drive shaft is but 10 inches.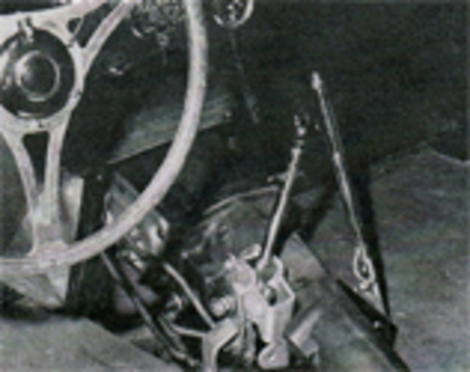 Gearbox is four-speed Borg Warner; all gears synchronized except reverse.
The rubbery tendency to lean excessively and the slight snaking feel at speed that was exhibited by the Bristol version is gone. While there is some leaning, it is unapparent to the driver and the steer characteristics is dead neutral for the most part, with a mild final oversteer.
Unlike the Ace, however, one cannot punch the throttle in the middle of a turn; wheel-spin and a certain amount of false or induced understeer is the immediate effect of too exuberant and too early use of the throttle, particularly in a tight bend. If driven properly through a bend at a steady rate of knots, without excess nudging, the cornering speed is quite high and when the car is lined up for the exit, a poke at the pedal sends the car straight forward with neck-straining velocity. The use of Second gear is necessary only for the tightest turns. Third being suffcient, at least with the 3.54 to 1 rear end, for almost any accelerative need.
As it stands, with the so-called "Standard" engine similar to the one in the first car, the Cobra will turn up somewhere between 6500 and 7000 in high gear with 3.54 rear end gearing, which figures out the near neighborhood of 150 mph. We didn't squeeze it that hard for several reasons, one being that the tachometer only went to 6000, another being that one doesn't quite dare nudge the Law that hard and a third being that it isn't a good idea to thrash a brand new prototype, especially on short acquaintance. Yet, interestingly enough, despite all this potential the car is utterly docile when docility is required, as in city traffic, school zones and the like.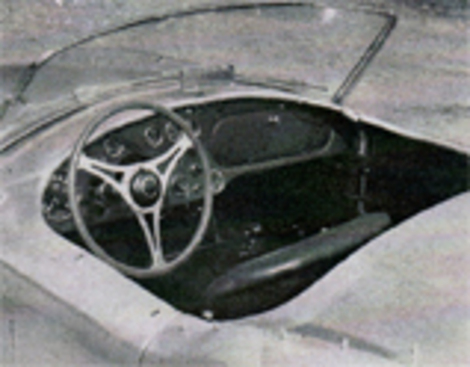 Dash is standard Ace but the tach and speedo are altered for higher speeds.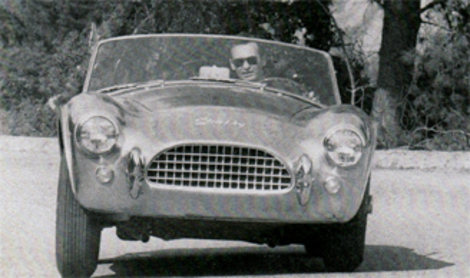 Bent into a tight corner the Cobra leans slightly but sticks beautifully.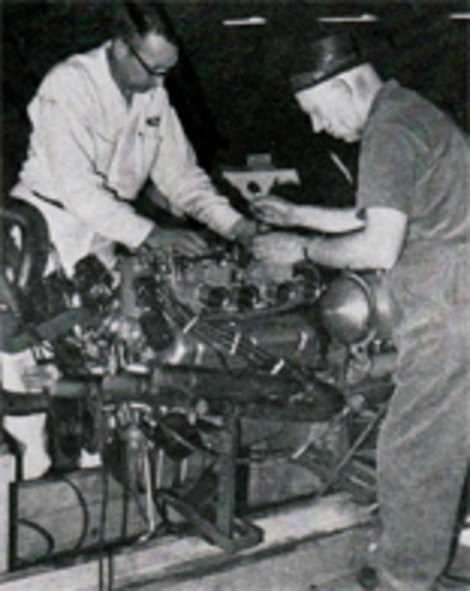 Setting up for a dynamometer run, crew checks linkage on Webers.
As a car goes, so should it stop. With four-wheel disc brakes with 12-inch discs and 550 square inches of swept area, the Cobra stops very well indeed. On a car that weighs only 1900 pounds soaking wet and ready to go, one might think the car is over-braked. It isn't. The brakes are competition Dunlops, with a rock-hard pedal, and it is almost impossible to lock things up tight. It can be done, but it takes work. A good solid poke at the brake pedal produces a condition just short of lock which hauls the car down far faster and smoother than one would think possible. With its light weight and extreme stopping power, the Cobra should be able to be literally buried into a corner before any drastic stopping action need take place, a great advantage over heavier equipment.
In the production versions an optional engine will be offered for those who wish to do all-out battle against the 327 cubic inch Corvettes and the latest Berlinettas. While the car in Standard configuration will be a Class B contender against the 283's, long-wheel-based Ferrari GT's, Mercedes, Carreras and the like, the optional one can only be classified in Class A wherein the short Ferrari, Corvette 327 and prodified XKE hold sway. Again the 260-inch block is used, spotting all but the Ferrari many cubic inches, especially in the case of the big 'Vette. This one, however, uses an optional cam, 11 to 1 compression, reinforced main bearing caps and is topped off by a quartet of dual-throat side draft 45 DCOE-9 weber carburetors and a cross-over ram type manifold. Pending final dynamometer tests, we can give only the estimate rendered by Shelby's technical crew: 330 bhp and revs as high as 9000 rpm, although it is doubtful if peak power will be developed anywhere near that high on the scale. More likely peak will be delivered somewhere near that high on the scale. More likely peak will be delivered somewhere around 7500, but that can be tailored by changing ram t¨bes on the carbs and by exhaust pipe lengths, it being planned to offer several optional exhaust systems.
As this is being written, homologation proceedings are being carried out to give the car an FIA classification in the Grand Touring category in Standard form and Improved Grand Touring category in the Optional form. Shelby is making similar arrangements with the SCCA for the same two models to be classified in B and A Production.
First deliveries of the cars will, according to Shelby, start this month, in May, and some orders have already been taken. First come, says Carroll, will be first served. The price? The same as the Bristol version!
For those wishing to cause consternation in the hairy big bore Production ranks, the line forms on the right.
                                                                                                                         *-----John Christy*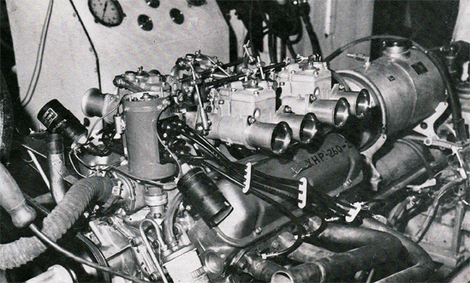 The optional engine under development on the dynamometer. The four double-choke Webers on ram manifold produced additional 43 bhp by themselves.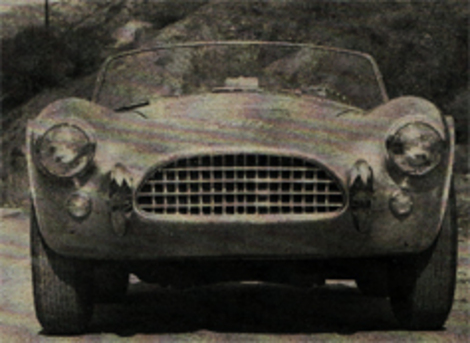 Front view.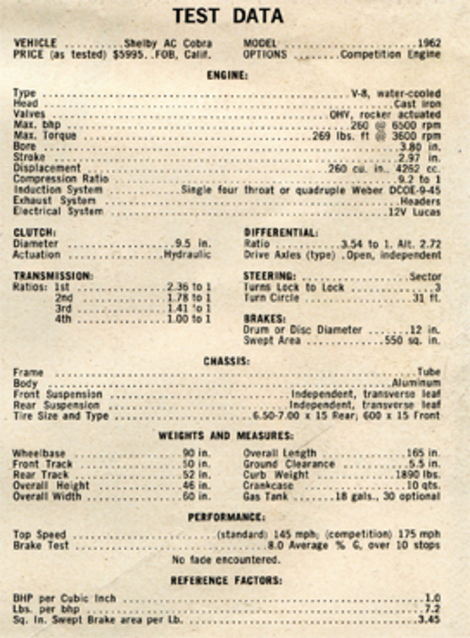 Some more history and other interesting images I found on these wonderful cars.
When, in 1953, AC Cars of Thames Ditton took over the Tojeiro design with its twin-tube chassis and all-independent suspension by transverse leaf springs, the resultant AC Ace two-seater was a great success and was thought very up-to-date, except for AC's six-cylinder engine (which dated back to 1919!). Fitted with Bristol's 2-litre six, however, it won countless races on both sides of the Atlantic. With that engine soon to be discontinued, one of the alternatives was Ford's 2.6-litre Zephyr unit, which was more flexible and could be tuned to give even more than the 150bhp of a full-race Bristol. To make full use of it, AC beefed up the Ace chassis and revamped the body, but only 37 examples of this AC Ace 2.6 were built and they were never sold in the USA. This forgotten model is the missing link in the Cobra story. When Shelby wrote to AC in September 1961 asking them to supply cars suitable for a Ford V8 engine, they took the Ace 2.6, fitted appropriate engine mounts, a Salisbury diff with Jaguar inboard discs (not used on later cars), and flared the wings to clear offset AC Greyhound wheels. The following February, Shelby received the complete car in ample time for it to be fitted with an engine and painted bright yellow for the New York Auto Show in April 1962. Ford Fairlane 260 (4.3-litre) engines went into the first 75 Cobras that AC shipped out, and the 289 engine in the remaining 51 Mark I Cobras. Later in 1962 Alan Turner of AC redesigned the front suspension for rack-and-pinion steering, and this Mark II version was built for the USA from early 1963 to the end of 1964, overlapping the first Mark III cars. Ford of America initiated the design of the Mark III, a heavier car with enlarged chassis frame, coil springs, and a more aggressive-looking body, well flared for wide-rim Halibrand wheels. The Mark III was meant for the powerful (390 to 425bhp) 427 engine, but many were fitted with the much softer (345bhp) 428. This was also installed in the longer-chassis car that AC built with Frua bodywork as the 'AC 428'. AC had also sold some Mark II Cobras in Europe during 1965, following up with Mark III models fitted with the 289 engine - but these had to be called 'AC 289' because Shelby had already sold the Cobra name to Ford for use on the Mustang. The best-handling Cobras were the superb-looking Mark IIs with Daytona coupe bodies by Pete Brock of California, raced in 1964-5 in a successful attack on the GT Division III title masterminded by Alan Mann. On these, the 'body frame' was actually designed to stiffen the willowy chassis. A similar coupe was built in England for Willment Racing. Yet another was the different and very beautiful AC coupe designed by Alan Turner for the 1964 Le Mans 24-hour race.
Excluding the Frua-bodied 428, total Cobra build was under 1000 cars: 126 Mark I, probably 528 Mark II and 344 Mark III.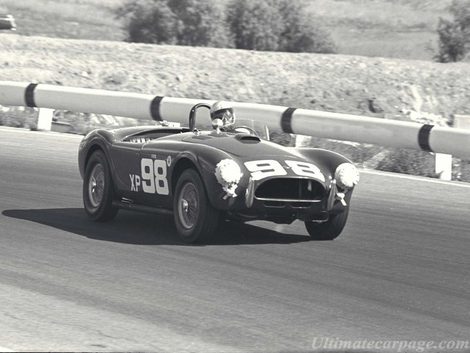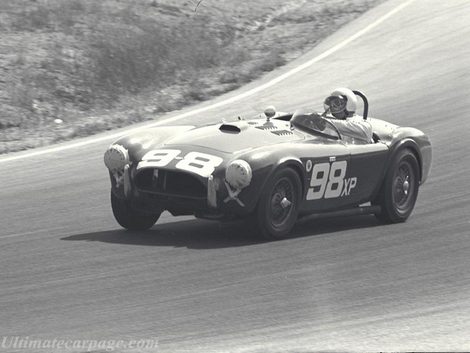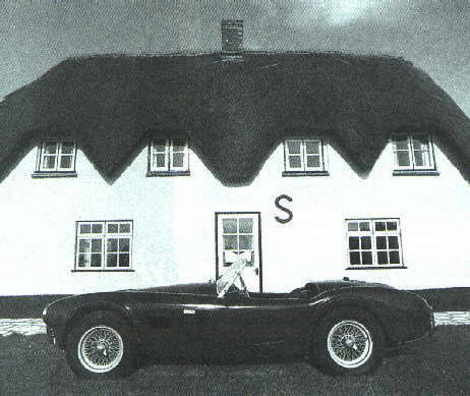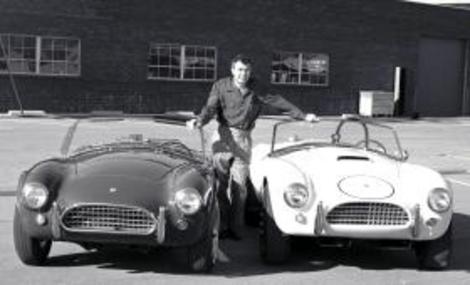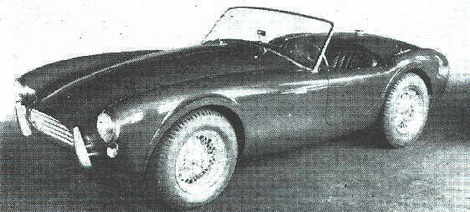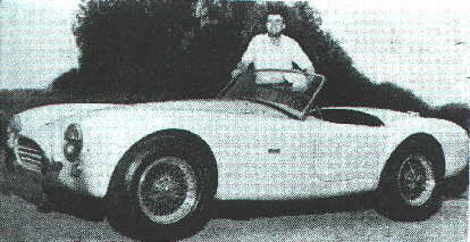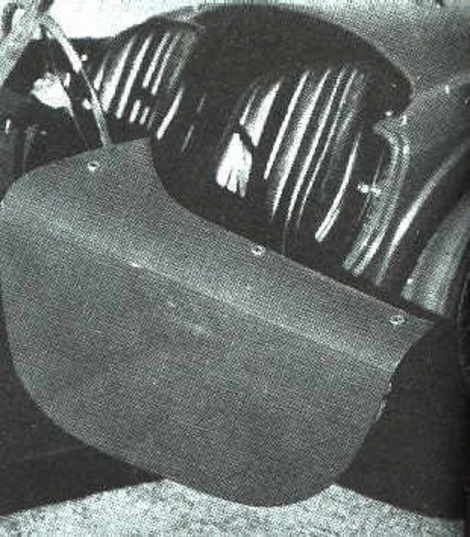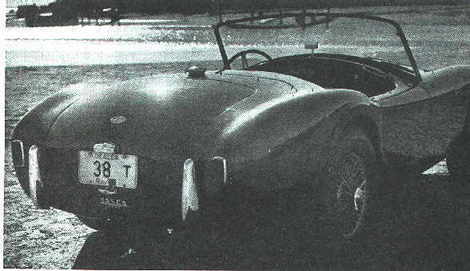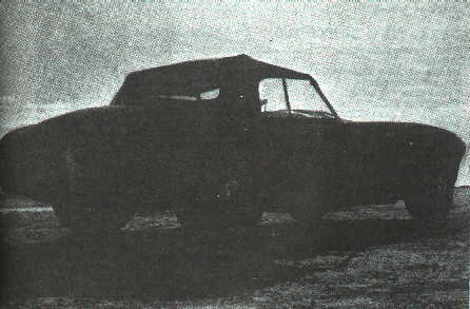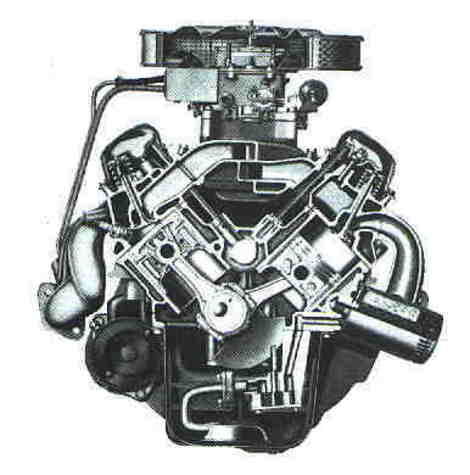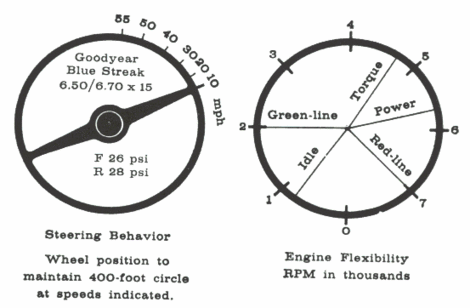 Tests of the Shelby AC Cobra prototype, equipped with the modified 260-cubic-inch Ford V-8, single 4V carburetor, and a 3.54 to 1 axle ratio, produced the following results:
0 to 30 m.p.h. 1.8 secs.
0 to 40 m.p.h. 2.5 secs.
0 to 50 m.p.h. 3.3 secs.
0 to 60 m.p.h. 4.2 secs.
0 to 70 m.p.h. 5.4 secs.
0 to 80 m.p.h. 6.8 secs.
0 to 100 m.p.h. 10.5 secs.
1/4 mile from standing start 13.8 secs.
Speed at end of 1/4 mile 112 m.p.h.
Estimated top speed 153 m.p.h.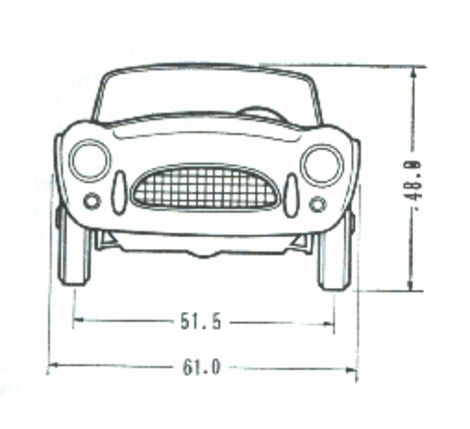 (1) Tachometer; (2) Turn-signal warning light; (3) Speedometer; (4) Water temperature gauge; (5) Oil temperature gauge; (6) Ammeter; (7) Oil-pressure gauge; (8) Fuel gauge; (9) Ignition key and starter; (10) Clock; (11) Light switch; (12) Wiper switch; (13) Heater switch; (14) Glove compartment; (15) Turn-signal switch; (16) Radiator fan switch
PRICES:Price as tested$5,995
OPERATING SCHEDULE:Fuel recommendedPremiumMileage12-18 mpgRange on 19-gallon tank230-340 milesOil recommendedSAE 10W-30 HDCrankcase capacity5 quartsChange at intervals of5,000 milesNumber of grease fittings8Lubrication interval1,000 milesMost frequent maintenanceGrease steering-swivel pins every 200 miles for the first 2,000 miles.
ENGINE:Displacement260 cu in, 4,261 ccDimensions8 cyl, 3.80-in bore, 2.875-in strokeValve gearPushrod-operated overhead valvesCompression ratio10.0 to onePower (SAE)260 bhp @ 5,800 rpmTorque269 lb-ft @ 4,800 rpmUsable range of engine speeds2,000-7,000 rpmCarburetionSingle four-barrel Holley carburetor
CHASSIS:Wheelbase90 inTreadF 51 in, R 52 inLength154 inGround clearance7.0 inSuspensionF: Ind., lower wishbones and transverse leaf spring, anti-roll bar R: Ind., lower wishbones and upper transverse leaf spring.Steeringworm and sectorTurns, lock to lock1 2/3Turning circle diameter between curbs40 1/2 ftTire size6.50 / 6.70 x 15Pressures recommendedNormal F 26, R 28 psi Racing F 42, R 42 psiBrakesGirling 12-in discs front, 11-in rear, 512 sq in swept areaCurb Weight (full tank)2,120 lbsPercentage on the driving wheels51.5
DRIVE TRAIN:ClutchSingle dry plate
GearSynchroRatioStepOver-allMph per 1000 rpm
RevNo2.42-----8.54-9.65
1stYes2.3633%8.369.9
2ndYes1.7826%6.3013.1
3rdYes1.4141%4.9916.6
4thYes1.00-----3.5423.4
Final drive ratio--------------------3.54 to one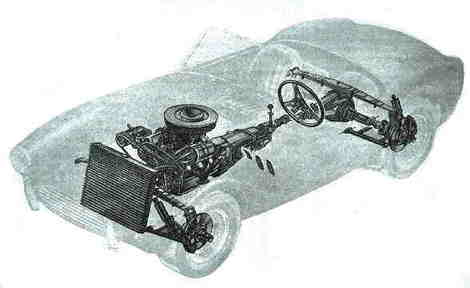 Once you have driven one be it an original or reproduction the Cobra is ONE EXHILARATING ride!!!!!!!
Posted 12/18/08 @ 05:00 PM | Tags: Carroll Shelby, 260 AC Cobra, Cobra Mk l, Sports Car Graphic May 1962, AC Cobra, John Tojiero, John Christy, Borg Warner gearbox, Weber carburetors, Corvette, Ferrari Berlinetta, Sports Car Graphic magazine