**AC COBRAS I love them and hunting for their roots I found this article which is a follow up to the prototype article done by John Christy in SCG May 1962 which I previously posted. This is a road test and technical report on the production car which was for sale at this point.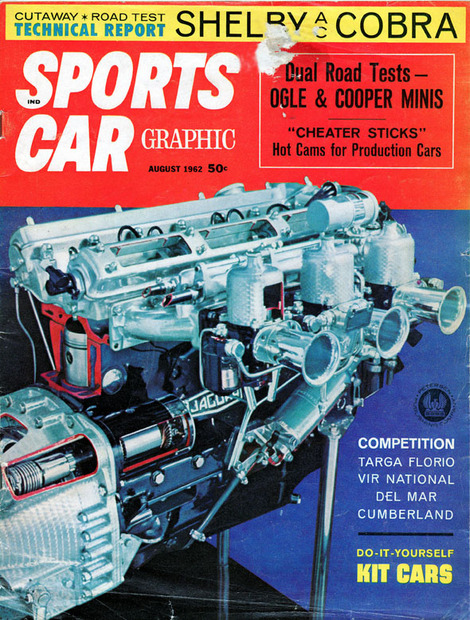 ROAD TEST/21-62 SHELBY AC COBRA
Road Test and Technical Report
by John Christy photos by Bob D'Olivo
"GO AHEAD, put your boot in it," said Carrol Shelby, "your're not going to hurt it that way!"
Carrol was referring to the fact that on our first trip with his brand new Cobra (SCG, May 1962) we had been reluctant to push it since the car was the only one around at the time.
Since then this latest addition to the really hot production car ranks has been around some. A smash hit at the New York Automobile Show, the pearlescent yellow roadster was equally popular in Dallas. After the Dallas show it was literally kidnapped off to Dearborn by Ford people. At either show Shelby could have disposed of his entire year's production to eager Ford dealers who literally thrust deposits at him. However, with an initial planned production run of 350, it has been decided that there will be only three dealers in key areas, only one of whom, Ed Hugus of Philadelphia, has been appointed, Shelby himself will handle the western distribution.
To get back to that instruction noted above, we did just that. The first thing we discovered was that it was literally impossible to get true readings from the car's own instrumentation during hurried getaways. Wheel spin, in spite of the limited slip differential, produced excessive speedo and tachometer readings, particularly in low gear. Consequently, for all runs up to 100 mph a fifth wheel and electric speedometer were used. Even that posed a problem since the top figure on the unit was 100 and the meter was pegged long before the car ran out of revs in Third gear.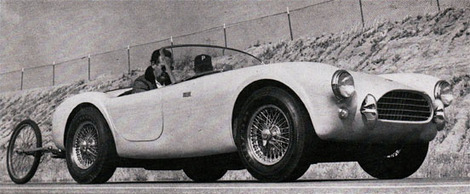 SCG's test crew starts out on one of the runs with fifth wheel and electric speedometer which pegged its needle at 100 well before end of the quarter mile.
When we first tried the car, as reported in May, it was fitted with the engine that is to be standard, the special series of 260 cubic inch Fairlane V-8's made by Ford for this project. It was fitted with a small four-barrel Holley carburetor and 9.2 to 1 heads. Since then it has been decided to use a slightly larger carburetor on the standard engine and, for our test, a fresh engine with this larger unit was installed, the original engine (XHP 260-1) having been well and truly thrashed both in the car and on the dynamometer. The result of the mildly increased breathing was slightly less initial torque at the bottom end, where it really isn't needed, and lots more in the middle and upper ranges.
With the 3.54 to 1 rear end gearing the standard engine will develop 7200 rpm in all four gears which, disregarding tire growth, translates to a top speed of 151 mph, reaching this in a space of less than a mile. In this particular case tire growth was negligible factor since the Cobra was shod with Goodyear low-profile racing tires which show almost no distortion at speed. Using a standard profile tire, with its additional half-inch of loaded radius, the top speed would probably be right around 155 mph. However, it is our feeling that in this particular case the small sacrifice at the top end was more than made up by the extra bite afforded by the wide, flat treads of the Goodyears which complemented the normally fierce side bite that is one of the Cobra's best traits.
Pushing the car hard into Riverside Raceway's Turn 9, a banked 180-degree bend that it looks, was an experience that was unique for production equipment - sort of as though someone up there had suspended one or more natural laws having to do with centrifugal force. In brief, the car sticks under conditions in which most other cars would have everything hanging out short of Monday's wash. During one photo session we brought the Cobra through a bend with the idea of popping the back end out in the middle of the turn for the photographer. A poke at the throttle at the proper moment provoked only more velocity and no change of attitude, indicating that we had far under-rated the Cobra's cornering speed. In fact, the tenacity of this vehicle is such that we would want far more time than was available (and a good roll bar) before we tried any on-the-limit barreling. As with certain small modified machines, the upper limit is such that it takes practice and double handful of brave pills to find the point where adhesion ends and sliding begins.

At full noise in third, car sticks to the road like paint.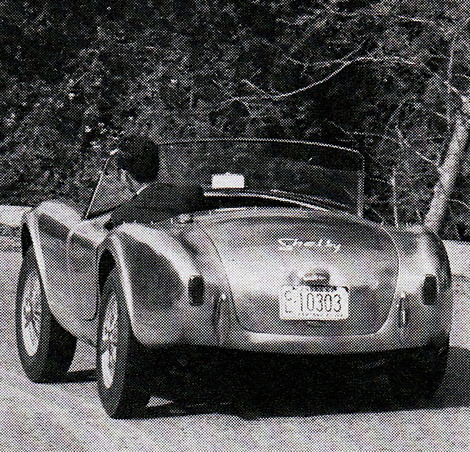 At full noise in third, car sticks to the road like paint.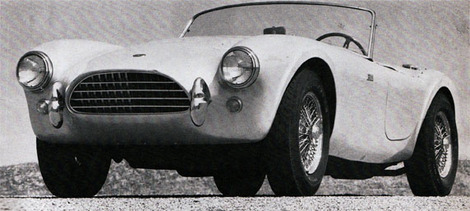 Striking stance of the Shelby AC Cobra.
About the only point on which we could find fault with the car mechanically was the gear splits in the Borg-Warner all-synchro box. Second and Third gears are nicely spaced in regard to each other but First is on the low side and the spacing between Third and Fourth is just a little wider thanneed be, at least with the 3.54 rear-end gearing. Dropping from top to Third for acceleration, as in highway passing, produces the acceleration but it winds out so quickly that Fourth has to be snatched sooner than would seem necessary. With the alternate 2.92 gearing however, this fault would probably be considerably less noticeable. Too, Shelby plans an alternate choice of transmission gears for those who like their cogs closer together. Another point that might be mentioned is that this wide spilt factor is helpful around town in that Third is good for anything from a slow crawl on up to and above legal highway speeds, almost like having an automatic transmission in its effect.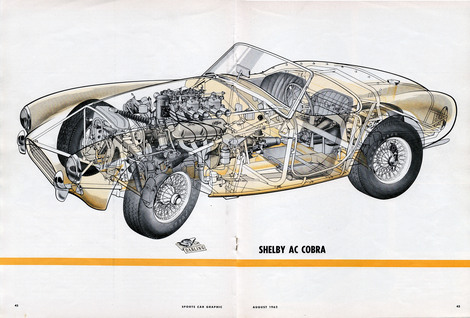 The incredible cutaway view of the Shelby AC Cobra.
Perhaps one of the most outstanding attributes of the Cobra, aside from the combination of docility and brutal performance, is the fact that for its type it is a very live-able car. There is plenty of leg and shoulder room in the cockpit and the seats, in true Ace fashion, are deep and comfortable with more than adequate side and shoulder support. In addition, with the standard 18-gallon fuel tank, luggage space is as generous as can be found in virtually any sports roadster and far mor capacious than most. All things considered, this one of the few cars that can conceivably be driven all during the week, then loaded with luggage, driven to the local piste de vitesse, raced and then be driven home again. In fact, only one or two other marquees, all in the five-figure price class, come to mind in this respect.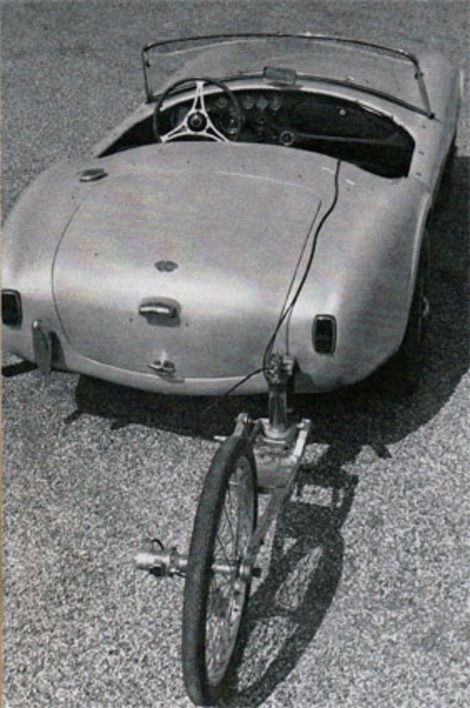 Runs up to 100 mph were done with the fifth wheel and electric speedometer to negate tremendous wheel spin effect in lower gears. Cobra is fastest accelerating production sports car ever tested by SCG.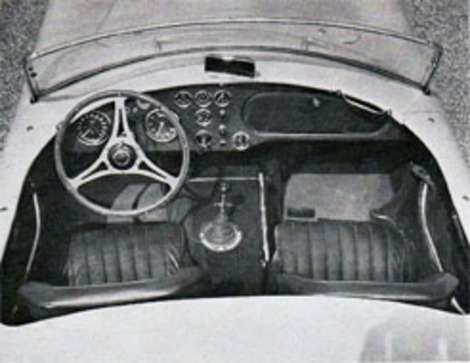 The cockpit is more fully instrumental than most.
For the benefit of those who may not have read our earlier report on the Cobra we'll repeat the description of the car. In design it basically follows the plan laid down in the Fifties by John Tojiero for the Ace and A.C. Bristol, using large-diameter tubing for the main frame rails, with bridge-structure at each end. Suspension, attached to these structures, is fully independent, with A-arms and transverse leaf springs which, in the Cobra, are fully wrapped with heavy lube impregnated fabric. The whole is topped by a tube-framed aluminum body. At first blush it looks like the famous Ace but there the resemblance ends.
First and foremost the Cobra is not merely an Ace with a Ford stuffed under the hood. That sort of thing has been tried before and has almost always been unsuccessful. Virtually everything but the frame rails has been redesigned, beefed up or replaced. The suspension arms are considerably stronger and reinforced with plating, the springs are considerably stiffer and the track has been widened four inches. Wheels used are 72-spoke Dunlops in 15-inch size, rather than the narrower 16-inch units used before. The differential has been replaced with a much larger Salisbury unit, as fitted to the XKE Jaguar, and takes the same range of gears. The body has been widened at the wheel wells and flared to accept the wider track, and has also been given an attractive "nose job" with a smaller grille replacing the rather blunt front aspect of the older Ace. In place of the flat windshield that was used on the 2-liter is a nicely curved screen with considerably greater reward rake; aside from attractiveness the main attribute of this change has been to reduce wind turbulence in the cockpit.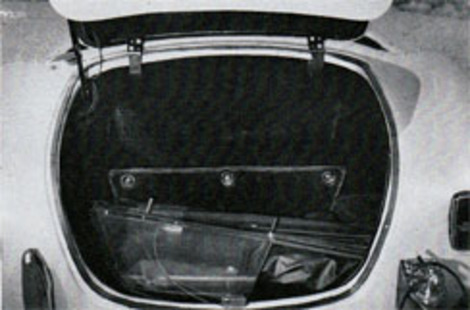 The trunk is large for this type of car.
As mentioned, the cockpit is one of the most live-able of any sports roadster. Except for instrumentation changes it is virtually the same as in the Ace. Virtually every gauge that can be used is mounted on the wide leather-faced dash. The tachometer which will be used on the production version will be an 8000 rpm unit in place of the 6000 rev instrument in the test car. The speedometer will, in all likelihood, be the excellent 180 mph VDO unit as used in the Mercedes 300 SL. Driving position is of the "arms out" variety but this can be modified through means of the adjustable-for-distance wheel.
The Cobra is also one of those vehicles which can literally be tailored to the customer through an option list as long as any. For those not interested in marque or class racing, there is even a 300 cubic inch engine. For the 260-inch engine there is a range of listed options that can deliver anything up to 330 horsepower in almost any useable curve.
Carburetion options listed on the homologation papers submitted to the FIA are a case in point. There is the standard four-throat unit as on the test car, a dual quad, a triple two-throat set-up and finally the very hairy-looking quadruple twin-choke Weber combination on a ram-tuned manifold. In one test this was bolted on a dyno-thrash standard engine that had shown only 242 bhp. The addition of the Webers alone, with no other changes, produced 282 bhp, an addition of 40 horses for the one item. In another test, using the single quad carburetor, but with one of four optional cams and 11 to 1 compression ratio, the engine developed 300 lbs/ft of torque - 31 more than the standard version. Power for the full-option engine is pegged at 335 sustained horses and the claim, judging from single-option tests, is very likely modest.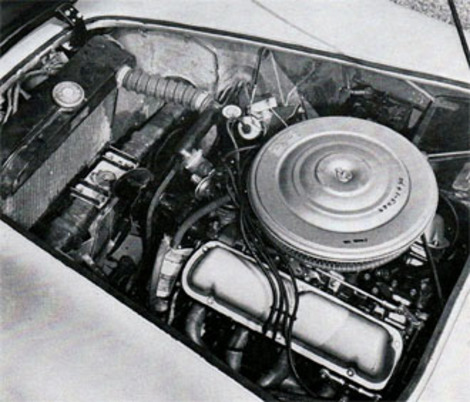 Single carb form with optional cam and increased compression, torque jumped to 300 lbs/ft.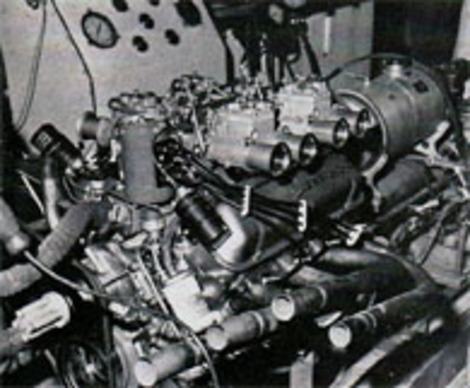 With only some options big increases in power are gained. With just four Webers shown, engine picked up 42 bhp. With all options power is over 335 hp sustained with an extremely wide useable range. For those not interested in production racing almost any combination can be purchased, up to and including 300 CI.
Why, if the standard version performs so creditably, is there a need for all this optional soup? Simply that the automotive world is not standing still. Chevrolet is known to have several good things in its future file for the Corvette, Jaguar has an increasing options list and, as is common knowledge the latest Ferrari Berlinetta is little more than a Testa Rossa with a roof. While the standard version of the Cobra may well be competitive currently in SCCA racing it wouldn't long remain that way, especially in International events. Nobody is more aware of this than Shelby and he intends to see that his customers get everything they wish in order to keep up with the competition.
Naturally all this soup-kitchen business will not come free but the cost on a percentage basis is surprisingly low. As is well and painfully known, competition preparation and full use of the options list on any production car can come close to doubling the initial cost, at least if one wants to field a winning combination. In case of the Cobra, however, the cost of a fully race-prepared version - other than the usual individual tailoring - is an additional one-sixth the base purchase price. For the FOB-Los Angeles tab of $5,995 the customer gets a going bear that will do well in club racing. The full race version is tentatively priced at $7,200, give or take a dollar, and for this the customer buys a projectile that will do honest battle with anything in the world that is classed as production.
Shelby's brochure says boldly - and impudently - "Buy it or watch it go by."** He means what he says. Put differently, the Cobra is one way to go Superfast and save $10,000.
                            ---------  John Christy


Test Data - Road Test NO. 21/62.
A Shelby history short.
Trip around Watkins Glenn.
Short trip at LeMans.
Carroll Shelby and Cobra historic time-line until the end of 1963
January 11, 1923 - Leesburg, Texas. Carroll Hall Shelby is born to Warren Hall Shelby, a rural mail carrier, and Eloise Lawrence Shelby.
November 1941 - Begins training at Lackland Air Force Base near San Antonio, TX. On training missions, Carroll corresponds with his fiancee by dropping love letters placed in his flying boots, onto her farm. As a flight instructor, he did not leave the U.S. during WW II.
December 18, 1943 - Carroll Shelby marries Jeanne Fields.
December 27, 1944 - Sharon Anne Shelby is born.
August 1945 - Carroll leaves the Air Corps for civilian life and starts a dump truck business in Dallas, TX.
November 2, 1946 - Michael Hall Shelby is born.
October 23, 1947 - Patrick Burke Shelby is born.
1949 - Carroll goes into the chicken raising business. His first batch of broilers nets a $5000 profit, but he goes bankrupt when his second group of chickens die of Limberneck disease.
January 1952 - Carroll drives in his first race, a quarter-mile drag meet, behind the wheel of a hot rod fitted with a flathead Ford V8.
May 1952 - At Norman, Oklahoma, Carroll drives in his first road race behind the wheel of an MG-TC, taking first place in competition with other MGs. The same day, against hotter competition from Jaguar XK 120s, he wins again!
November 1952 - Carroll Shelby pilots a Cad-Allard to first place in an early SCCA race on a road racing course set up near the little town of Caddo Mills, TX.
August 1953 - Carroll Shelby realizes he'll have to hurry to the track to get in any practice and wears his work clothes-coveralls-from the farm. When his odd racing attire nets him more laughs and publicity than his racing record, Carroll sticks with the striped bib coveralls, which become his trademark.
January 1954 - Shelby attracts the attention of John Wyer, Aston Martin's team manager and meets International Grand Prix driving greats Juan Fangio and Peter Collins. On the strength of Shelby's racing expertise behind the wheel of the Cad-Allard, Wyer Invites Shelby to co-drive an Aston -Martin DB3 at Sebring, Florida.
April 1954 - Shelby goes to Europe and drives an Aston-Martin DBR3 for Wyer, finishing a very respectable second against C-Type Jags at Aintree, leading to a ride with the Aston-Martin team at Le Mans in June 1954, co-driving with Paul Frére. Shelby continues to race Aston-Martins in Europe for 1954, returning to the States in August.
August 1954 - Donald Healey of Austin-Healey in England, invites Carroll Shelby to help set 70 new Class D records at the Bonneville Salt flats in Utah.
November 1954 - Carroll Shelby enters the Carrera Pan Americana Mexico. At the 175-kilometer marker north of Oaxaca, Shelby T-bones a large rock and flips his Austin-Healey four times. Indians find him and offer him strong drinks to ease the pain of his broken bones, cuts, contusions, and a shattered elbow.
March 1955 - Although Shelby was still undergoing operations to recover from his racing accident, he continued to race with his arm in a specially made fiberglass cast and his hand taped to the steering wheel. At Sebring, Shelby co-drives a 3.0-liter Monza Ferrari with Phil Hill.
July 1955 - Shelby wins the Torrey Pines race with a 4.1-liter Mexico Ferrari, defeating Phil Hill. Tony Paravano, a building contractor in Los Angeles takes notice and asks Shelby to drive a new 4.9-liter 12-cylinder Ferrari. Shelby wins in his first outing and is then asked to go to Europe to race.
Early 1957 - Carroll Shelby Sports Cars opens at 5611 Yales in Dallas, Texas, with backing from Dick Hall, an oilman from Abilene, Texas, and brother of Jim Hall who built the Chaparral cars.
March 1957 - Sports Illustrated names Shelby "Driver Of The Year."
November 1957 - Shelby, driving a double-overhead-camshaft V8 Maserati single-seat racing car, wins a 100-mile race at Riverside. After spinning out on the first lap, he went to the back of the field, then lapped everybody in one of the most amazing feats of his career.
June 1959 - Carroll and Ray Salvadori co-drive an Aston Martin DBR1/300 and win the 24 Hours of LeMans.
January 1960 - Carroll Shelby begins his last racing season in a Maserati 250F Formula One Grand Prix car formerly driven by Fangio at Rheims in 1958.
February 1960 - While staying at a friend's apartment in Dallas, Shelby experiences chest pains and begins slipping nitroglycerin pills under his tongue for relief. His doctor incorrectly diagnoses the problem unrelated to the heart. Carroll moves to La Mirada, California, and separates from his wife, Jeanne, who stays in Dallas with the three kids. Shelby opens his Goodyear Racing Tire distributorship.
June 27, 1960 - Carroll Shelby, driving a Scarab to first place at Continental Divide Raceways, breaks a course record and sets his sights on the USAC driving championship.
December 3-4, 1960 - Shelby competes in his last race, the Third Annual Los Angeles Times-Mirror Grand Prix for sports cars, driving a Type 61 Birdcage Maserati, and finishing fifth. Overall, he wins the USAC driving championship for 1960.
1961 - Out of racing, Shelby pursues another career and opens his "Shelby School of High Performance Driving." A $90 ad in Sports Car Graphic returns $1400 in requests for literature. Pete Brock, a talented automotive designer, stylist, and driver prepares the curriculum and helps with the teaching duties.
September 1961 - When AC Cars of Thames Ditton, England, loses the source for its six-cylinder Bristol engine for its two-seat roadster, Carroll Shelby airmails a letter of proposal to the company to keep building the chassis for a special Shelby sports car to be powered by an American V8. As yet, he knows nothing of a new lightweight, thinwall-cast, small-block Ford V8.
October 1961 - Charles Hurlock, owner of AC Cars, returns Shelby's letter, stating he would be interested in Shelby's plan as long as a suitable engine replacement could be found in the States. The same month, Shelby finds out about the new 221-cube Ford small-block and dispatches a letter to Dave Evans explaining his idea for a sports car and his need for a V8.
February 1962 - The first 260 Roadster, minus engine and transmission, is air freighted on February 2, 1962, to Shelby's shop in Southern California. Carroll has a dream revealing to him the name Cobra appearing on the front of his car. In Carroll's words, "I woke up and jotted the name down on a pad which I kept by my bedside-a sort of ideas pad- and went back to sleep. Next morning when I looked at the name 'Cobra,' I knew it was right." In less than eight hours, a 260 HiPo and Borg-Warner four-speed are installed and Shelby and friend Dean Moon test drive the new Cobra, looking to bait Corvettes, but none are found.
March 1962 - Shelby-American begins operations at a shop on Princeton Drive in Venice, California, and hires Ray Geddes, a Ford finance business school graduate who comes aboard at Shelby-American to coordinate the program with Ford. Among his first duties are his efforts to keep Ford's involvement at a low profile due to Ford's liability concerns. Shelby creates the original Cobra Roadster, the fastest production car ever made at that time; 0-60 in 3.9 seconds.
April 1962 - CSX 2000, the first Cobra, is painted a pearlescent yellow by Dean Jeffries and shipped to the New York Auto Show where it appears in the Ford display. Dealers begin ordering and with deposits in the bank, Shelby-American formally commits to building its new Cobra.
May 1962 - Shelby promotes his Cobra by offering test drives to the automotive press, who respond with superlatives. The May 1962 issue of Sports Car Graphic describes its acceleration as explosive. CSX 2001 (the second Cobra built) is shipped by air from England (minus engine, transmission, and rear end) to New York and is prepared by Ed Hugus in Pittsburgh, Pennsylvania. CSX 2002 is air freighted to Los Angeles and built into the first competition Cobra.
June 1962 - Production is slow as Shelby-American wrestles with start-up problems due to the fact that the AC chassis requires extensive engineering. Meanwhile, CSX 2000 is repainted a different color each time a different magazine test drives it, giving the appearance of many cars in production. The Cobra has a 1-ton advantage over the Corvette.
August 1962 - Shelby-American submits papers to homologate the Cobra as a GT III car in the eyes of the FIA, the Federation Internationale de L'Automobile. On August 6, the FIA homologates the Cobra in the more-than 2-liter class for the FIA Manufacturers' Championship. At least 100 cars had to be built within 12 months, but at the time of approval, just eight Cobras had been completed. According to Carroll, he contemplated switching the chassis and body to an alternative due to continued problems.
October 13, 1962 - Shelby-American enters the Cobra in its first race, a three-hour contest with Bill Krause behind the wheel, opening the Los Angeles Times Grand Prix. Krause, with a poor start, falls back, then takes the lead at lap nine, but breaks a rear hub and does not finish. The Cobra, however, is definitely lighter and faster than the new Corvette Stingray. Phil Remington at Shelby-American goes to work building stronger rear hubs starting with forging blanks from Halibrand.
January 1963 - Dave MacDonald and Ken Miles sign to drive Cobras for Shelby-American and place first and second at Riverside, beating the Corvette Stingrays. Miles is so confident, he pits for a drink of water and relaps the Corvettes to finish behind MacDonald. Ian Garrad, an Englishman living Southern California, feels he could imitate the Cobra with a 260 Ford version of the little four-cylinder British Sunbeam Alpine roadster. Ken Miles is first hired to build a prototype "Tiger," a job that is handed over to Shelby-American.
February 1963 - Shelby-American arrives at Daytona for its first international competition. The Ferrari GTO triumphs, after Daytona, Chevrolet drops out of racing.
March 1963 - Shelby-American enters four cars at Sebring, Florida, an FIA race. Two of the four have the new rack-and-pinion steering--driven by Dan Gurney and Phil Hill. Although Hill sets the fastest GT lap, the Ferraris win.
June 1963 - Shelby-American completes its first 125 Cobras. Because Ford refuses to finance a Cobra Le Mans effort, Shelby puts together a deal with AC Cars and Ed Hugus, who prepare one car each. The top Cobra finishes seventh.
September 1963 - Shelby begins the Daytona Coupe project, for the roadster lacks the aerodynamics necessary for 200mph down the Mulsanne Straight. Pete Brock is the designer. Cobra production passes 170. The first Cooper Monacos -King Cobra- are ordered. Dan Gurney, in winning the Bridgehampton 500KM in a Cobra, becomes the first American driver to win an FIA race in an American car.
November 1963 - The Cobra does not beat Ferrari in international competition in 1963, it dominates the Corvette and wins the SCCA A-production national championship.
December 1963 - The Cobra wins the USRRC (United States Road Racing Championship).
Carroll Shelby himself in images through out his life with the car he made famous - what an incredible legendary man.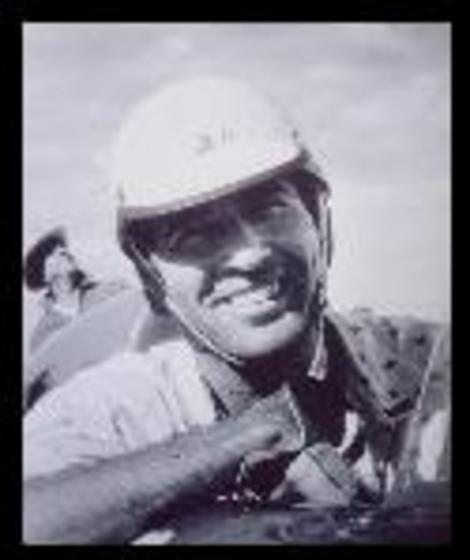 Posted 12/29/08 @ 06:46 PM | Tags: Carroll Shelby, Shelby AC Cobra, Sports Car Graphic August 1962, John Christy, Weber carburetors, Jaguar, Ferrari, Ferrari Berlinetta, Mercedes 300 SL, Testa Rossa, Borg Warner gearbox, John Tojiero, AC Bristol, Ford, Sports Car Graphic magazine